Bill in Massachusetts Could Outlaw Sex during Divorce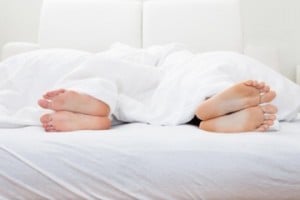 A startling new bill on the East Coast could have significant implications regarding how involved the courts get in the lives of divorcing couples.
The Huffington Post reports that, in Massachusetts, lawmakers are considering a bill that would ban sex while divorce proceedings are ongoing.
The bill would ban sex only in a very specific circumstance:
"In divorce, separation, or 209A proceedings involving children and a marital home, the party remaining in the home shall not conduct a dating or sexual relationship within the home until a divorce is final and all financial and custody issues are resolved, unless the express permission is granted by the courts."
The bill's proponent, former president of Fathers United for Equal Justice Robert Leclair, stated that the bill would serve to protect children.
Leclair's statement seems to suggest that the intention behind the bill would be to spare children the possible emotional trauma of seeing their divorcing parent with someone new. Still, the bill doesn't explicitly state that sex between the divorcing spouses would be protected.
While a noble goal, this bill seems somewhat misguided. It would be very difficult for courts to enforce this law, and it would only complicate the divorce process. The bill also doesn't state what the penalties would be for violating this law. Would the offending parent lose custody? Moreover, it doesn't take into account individual circumstances. What if the divorcing parent only brings their new partner home while the kids are visiting the other parent, for example?
We'd like to know what you think about this bill. Would you be in favor of a bill like this passing in Washington? Or is too intrusive and an invasion of privacy?