Bellevue
Bellevue attorneys serving all of East King County.
Let's face it. If you are in need of legal assistance, you are likely facing a difficult life event that could also potentially be life-altering. Our Bellevue attorneys are here to help. And, we get it. No one wakes up in the morning with a smile on their face thinking, "Sweet! I get to contact a lawyer today and deal with this mess." Having to retain an attorney is almost always stressful and can be very confusing.
There are countless circumstances in life where retaining a lawyer in necessary. When that time comes, we're here to help. Our lawyers have the resources and experience to assist you with any legal matter involving our primary practice areas. We know that behind every case is a real person.
We believe that trust is the cornerstone of every attorney-client relationship. And, we will take the time to ensure that you fully understand all of your legal rights and options so that you can make a truly informed decision about what is best for you given the unique facts and circumstances of your case. From our legal services offices in Bellevue, we serve the entire Eastside.
Unlike many firms, we take a "cookie-cutter" approach to nothing. Our attorneys are skilled advocates who will do everything that the law allows to try and ensure the best possible outcome of your case. Your goals are our goals. When it's time to investigate, we will investigate. When it's time negotiate, we will negotiate. And, when it's time to fight, we will fight.
Most legal crisis' hit out of nowhere, often like a nuclear bomb. In every such situation, protecting your best interests is the primary goal, so you need to work with an attorney that you trust. Our Bellevue lawyers have spent decades earning clients' trust one handshake at a time.
Our Bellevue lawyers focus exclusively on the following six areas of Washington law:
At the Law Office of Jason S. Newcombe, we have more than 50 years of combined legal experience representing clients just like you who need help navigating Washington State's complex legal waters. Our Bellevue lawyers treat every case with the dedication and personalized care it deserves. You may be facing a difficult time in your life, but our compassionate approach to legal representation will help you move forward to the next stage in your life.
If you're in need of legal representation for any of these matters, you can speak with one of our Bellevue lawyers today without cost or obligation. During your free consultation you can ask questions, and we will outline your legal options. If you choose to retain one of our professional Bellevue attorneys, we will aggressively pursue your interests and protect your legal rights.
The best Bellevue lawyers understand that every client wants their case resolved successfully. Accomplishing this is only possible through diligence, professionalism, pragmatic negotiation, a willingness to fight when necessary, and dedication. Contact our law office in Bellevue today and let us help you take the next step. Our lawyers serve the entire Eastside of King County.
Bellevue, Washington, you, and the law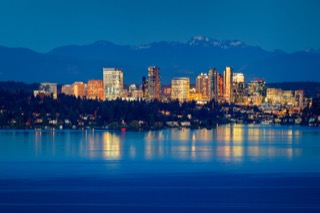 Whether you've run afoul of the law, are having financial troubles, marital problems, or simply got a traffic ticket, life has a way of getting in the way of the best made plans. Bellevue, Washington is the third-largest city in the Seattle Metro Area with a population near 150,000, and is well-known as a great place to live and do business.
With a mild climate, and beautiful landscape that helped it earn its name, Bellevue is a great place to start a family, a business, or visit while on vacation. A thriving economy and quality schools tell a story of success, and Bellevue has also been rated as one of the safest communities in the country.
If you are planning to visit Bellevue or perhaps even moving into the area, check out the Municipal website, which has all sorts of useful information about the nature of the government, traffic, laws, and even popular local activities. You can find even more social content on the City of Bellevue website.
If you already live in Bellevue, then you know why it's become such a popular place. If you are looking to learn more about the City of Bellevue, their Bellevue LinkedIn page is another great resource with a wealth of information. And, if you are looking for more information about what's happening on a day to day basis, the Bellevue Twitter page is an excellent source of current information. Similarly, if you are looking for information about doing business in Bellevue, we recommend the Chamber of Commerce page.
However, sometimes people make mistakes or face life-altering choices that require help from a qualified lawyer. Our attorneys have decades of combined experience handling every type of case involving criminal defense, divorce and family law, bankruptcy, personal injury, and civil traffic infractions. If you suddenly find yourself in need of a good Bellevue attorney, it's a good idea to talk to a handful of lawyers in order to find the one that's right for you. Of course, we would love for you to choose our law firm, which is why we offer a free consultation for all criminal defense, DUI, bankruptcy, and personal injury cases.
However, it's absolutely vital that you fully trust your Bellevue attorney. So, now is the time to take the first step and find out what we can do to help. What follows is a brief review of our practice areas. This information is designed to help you better understand the legal services that we provide out of our Bellevue offices, but is in no way comprehensive. Your situation is unique, and it demands personalized attention from a qualified Bellevue attorney who will aggressively pursue your legal interests. We're her to help! Call us today for an initial consultation. Our Bellevue legal services offices are conveniently located right in the heart of downtown.
14205 SE 36th St #100A
Bellevue, WA 98006
Phone: (425) 278-1130
Toll Free: (844) 925-2943
Let's get started.
More Information About Bellevue, WA
Bellevue is considered one of the best places to live in the United States. Culture, diversity, and endless outdoor recreation opportunities offer Bellevue residents the chance to enjoy the quiet of nature and the perks of city life. This is probably why Bellevue boasts violent crime rates below the national average, and property crime rates that are some of the lowest in the state of Washington.
Indeed, personal safety and contentment play a large role in our overall contentment, and that of our family members. Over the last 20 years, divorce rates in Washington have been dropping. It would be easy to dismiss this as a coincidence, but this has also been a period of financial growth and economic stability state-wide.
This makes sense, as an economy grows, people have more opportunity. In turn, families become more financially stable and benefit from not having to worry about paying bills or being victimized by a serious crime.
In 2010, Washington was reeling from a record number of home foreclosures, but by 2014 the state had largely recovered. This is why Washington and Bellevue are experiencing growth at unprecedented levels. This article shows how declining bankruptcy has helped the state recover, and it's yet another reminder that financial stability lends itself to a happier and healthier community.
As attorneys, we believe that our role is to help people deal with situations that make it harder for them to succeed. Whether this be a serious family matter involving divorce or bankruptcy, or a criminal charge, we have the tools needed to address the issue. The goal with any legal matter is to resolve the situation in the most favorable way possible, which is why we maintain focus on the needs of our clients and their families.