Traffic Violation
Can You Fight Your Washington State Ticket?
This is the question most people ask after they have been issued a ticket in Washington. People may desire to fight a traffic ticket for a variety of reasons. Some want to keep the points off of their driving record so that their car insurance premiums don't skyrocket. Others simply feel that the citing officer made a mistake and that they didn't deserve a ticket in the first place.
No matter what your reasons are for wanting to fight a speeding ticket or other type of infraction, our traffic ticket attorneys can help. Our top priority in every traffic ticket case is to have the infraction dismissed. When a dismissal is not possible, we fight to keep the ticket off of your driving record.
People are often surprised to find out that a speeding ticket can be successfully fought. You do not have to sacrifice your legal rights and your hard-earned money just because you've been cited with a ticket. We successfully resolve HUNDREDS of ticket cases every year, and our Seattle traffic ticket attorneys will aggressively fight to do the same for you.
Beating a traffic ticket has become harder over the years. However, we build our defense around the idea that there is a legal means by which we can have your ticket dismissed. While there are never any guarantees, all of our lawyers work diligently on every case to make sure your legal rights are being defended.
How We Fight Your Washington Traffic Ticket
How do we fight your ticket? As an example, consider how we fight a speeding ticket. The first thing we look for in every case involving a speeding ticket are potential technical issues that could lead to your ticket being dismissed. No two situations are alike, so there are many factors that we investigate to see if your ticket can be beaten. There are procedural rules that govern every speeding ticket case, and these are the areas that we will first examine.
We seek to determine whether your ticket was written according to state guidelines. Did the citing officer cite the correct statutes on your speeding ticket? Was your ticket filed properly with the court? Was the testing and calibration of any speed measuring device used to determine your rate of speed up to date when you received your ticket?
These technical aspects of your case must be investigated thoroughly, as they are often the primary reason a ticket is dismissed or reduced. In most cases, the only evidence against you is the citing officer's report, and there are often problems that exist with this evidence. If we can uncover flaws in the officer's report, then the evidence against you is almost always null and void. Obviously, a lot depends on the court where you have to appear to address your infraction, but our attorneys know where to look to make sure the law is defending you.
Understanding Your Washington State Ticket
There are two kinds of traffic violations: traffic infractions and traffic crimes. Traffic infractions will usually result in a ticket and include common violations such as speeding, failure to signal, or running a stop sign. Traffic crimes are far more serious, and these violations often come with mandatory punishments that can have a devastating effect on your life and driving privileges. Common traffic crimes include driving with a suspended license, hit and run, and drunk-driving-related offenses.
If you have been issued a ticket for a traffic infraction, you must respond to the charges in a timely manner or you could face eventual criminal charges. If you fail to respond, then you are essentially admitting your guilt. If you ignore the fines associated with your traffic ticket, then your license could be suspended and the debt sent to a collection agency. The next time you are stopped for a traffic infraction, you could be facing arrest for committing a criminal misdemeanor. A conviction would lead to a much harsher punishment of up to $1,000 fine and 90 days in jail.
This underscores the importance of addressing your ticket as quickly as possible. By ignoring the situation, it can quickly spiral out of control. However, if you retain one of our experienced lawyers, then you will have your own personal advocate dealing with the Washington court on your behalf. You won't have to worry about missing any court dates, or whether your paperwork is being filed on time. We handle your ticket case from start to finish.
If you already have points on your driving record, then you could be facing a license suspension or a driving probation. In these cases, it is vital to make sure you are doing everything you can to protect your driving privileges. If you accumulate too many points on your driving record and your license is suspended, then you will have to carry expensive high-risk (SR-22) insurance for three years.
This only proves that even one ticket can lead to bigger problems in the future. If you've been issued a traffic ticket in Washington, now is the time to act. Our legal professionals are ready to fight your ticket on your behalf, do everything legally possible to have it dismissed, and keep points from appearing on your Washington driving record.
When We Handle Your Washington State Traffic Ticket, You Don't Have To
You probably don't have a lot of spare time in your life to deal with fighting a traffic ticket. When you retain one of our lawyers, we handle every detail from start to finish. In most cases, there in nothing more you need to worry about. We file all of your paperwork with the court, and we conduct a thorough investigation of the details surrounding your case. We even appear in court on your behalf.
You don't have to miss work or any important events. You don't have to fight traffic to appear in court. You can go about your daily routine confident that every detail in your case is being handled by an attorney with years of experience. When the case is resolved, we simply give you a call to tell you the results. If anything does come up, we call you immediately to let you know if there is anything more required of you, but this seldom happens.
Our Washington state traffic ticket lawyers handle all cases involving traffic infractions on a flat-fee basis. This takes the guesswork out of determining how much your ticket will end up costing you in the long run. The peace of mind that comes with hiring a professional to handle your case is worth the fee alone. When you consider that a dismissal is possible, then it makes sense to let our experience and dedication work for you.
Contact Us Today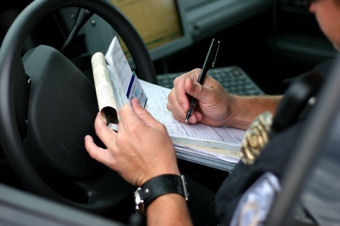 Would you like to fight your traffic ticket? If so, then all you need to do is contact us today for a free case evaluation. We will answer any questions you have, and we will outline how we think your case would be best resolved.
Our free consultation concerning your ticket is a risk-free way for you to make an informed decision on how you would like to proceed. Our goal is not to pressure you, but rather to make it easier for you to understand your legal rights and whether or not fighting your ticket is ultimately a good idea. If you choose to retain one of our attorneys, then we will immediately begin working on the details of your case and building an aggressive defense strategy.
Our ultimate goal will be to have your ticket dismissed outright and to keep any points from appearing on your driving record so that your insurance premiums remain low. Many people in Washington just like you are cited for a variety of traffic infractions every day. Often, they make the mistake of simply paying their ticket instead of putting up a fight. Remember that traffic laws were written to protect you, so do everything you can to make sure you are being protected by the law.
You can fight your Washington traffic ticket. Contact us today or request an appointment. Our qualified traffic ticket attorneys will make sure that your rights are being protected every step of the way.