Traffic Violation in Seattle
You Can Fight Your Seattle Traffic Violation!
Getting stopped by the police and receiving a ticket can be a frustrating and irritating experience, whether it was deserved or not. You can be potentially cited for violating countless statutes every time you drive. Some of these violations can impact your record and insurance rates, while others won't. If you are not sure, it is important to double-check before simply paying the ticket. For some individuals, it can even have severe repercussions on their life and career. If you have a commercial driver's license or an intermediate driver's license, it is absolutely imperative that you contact an attorney immediately. No matter what your ticket's circumstances are, you have the right to contest it, and the only way you are going to be able to keep your record clear is by fighting. We are here to help you.
For many individuals, the thought of hiring an attorney for a traffic infraction has never occurred to them. Instead, they think they can represent themselves. While you certainly have the right to represent yourself, an attorney will be more familiar with the different judges and arguments needed to present your case properly. Simple excuses like "going with the flow of traffic," "I know I wasn't speeding because my car can't go that fast," or simply "I don't think I was going that fast" don't work. Many courts have also changed dramatically over the past few years, as jurisdictions have turned to tickets as a source for funds. What was once easy is now more difficult. Many courts are now having prosecutors handle traffic infraction cases to make sure there are fewer dismissals and more money going towards their budgets.
When you receive a ticket, you are given three different options on how you can handle it. The first option is to simply pay it. If you do, the ticket will go on your record, and you will have to pay the full fine amount which is listed on the ticket. This is the quickest way to handle the ticket but not usually the best way in the long run. The second option is mitigation. This is when you admit to the violation but explain there were circumstances that warrant a reduction in the monetary penalty. The reduction is entirely up to the judge. The problem is the ticket will still go on your record and mitigation is more time-consuming that paying the ticket. Your last option is to contest the ticket. This does not necessarily mean that you believe you are "innocent" of the infraction; rather, you are telling the government you want them to prove it! If you lose your contested hearing, the ticket will go on your record and you will have to pay the fine. However, this will be just like as if you paid the ticket in the first place. Instead, if you win, the case will not go on your record and you do not have to pay a fine. If you choose a contested hearing, you can either handle it yourself, or you can have an attorney handle it for you. If you have an attorney, most of the time, you will not have to even attend the hearing, saving you time for more important things. Additionally, an attorney will give you the greatest chance at keeping the ticket off of your record, which should be your number one goal. Paying a little more today in order to hire an attorney can potentially save you a lot of money later down the road in avoided insurance rate increases.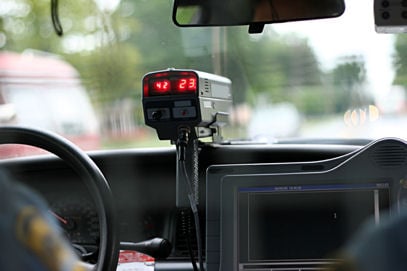 At the Law Offices of Jason Newcombe, we are here to protect your driving record, license, and wallet. If you have questions about your case, do not hesitate to contact us for a free consultation with an experienced Seattle, WA traffic violation attorney. It is especially important to reach out to us if you have a commercial driver's license or an intermediate driver's license.
To learn more about other violations, please visit the pages below: