Can the Police Search Your Smartphone without a Warrant?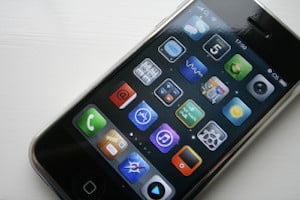 Like the majority of adults in America, you probably have a smartphone. (According to a Pew Research study, 90 percent of American adults have a cell phone, and 58 percent of those people have a smartphone.)
You probably carry it with you everywhere you go. It's your cell phone, your address book, your music player, your photo album, your GPS, and your computer—all rolled into one device.
How would you feel, then, if police were allowed to search your phone—without a warrant—if you were ever arrested? We'd guess that you would feel that is not only a violation of your privacy but also a violation of your Fourth Amendment right to be free from unreasonable searches.
This is precisely the case that was recently heard by the U.S. Supreme Court.
According to NPR, the case was filed after police pulled over a man for having expired tags. His car was impounded, and during a search of the car, police found guns under the hood. Police searched the man's cell phone and found evidence of gang activity.
The data found on the smartphone was used to charge the man, David Riley, with several felonies.
Police are allowed to perform a search of a person without a warrant when arresting him or her. They are allowed to look for weapons and look at whatever the person is carrying—whether that is a wallet, address book, and even a diary.
The lawyer representing the prosecutors of Riley argued before the Supreme Court that this search doesn't become "constitutionally unreasonable" just because the information is in digital, instead of physical, form.
However, Riley's lawyer, Jeffrey Fisher, argued that the Founding Fathers would not have intended for police to perform such a wide-ranging search. The warrantless search at the time of arrest is meant primarily to protect the officer—by allowing him or her to search for weapons—and to prevent evidence from being destroyed. The problem with allowing smartphones to be searched without a warrant, Fisher argued, is that there would be no limit on what police could search for or store in a database, perhaps indefinitely. Because people carry their lives on their phone, police could have access to extremely intimate details—down to someone's emails to their spouse and even medical information.
Justice Elena Kagan explained this well when she said, "Now, that strikes me as a very different world than the kind of world…where somebody has pictures of their family in a billfold."
The Supreme Court is expected to come to a decision in July.
We would like to know what you think about this case. Do you think police officers should be allowed to search an arrested person's phone without a warrant?
Photo Credit: William Hook via Compfight cc