How Does Bankruptcy Affect College Financing?
Paying for college is hard enough for the average family. But for those struggling with debt, it's even more stressful.
Like most parents, you probably want to help your kids with at least some of their tuition. The cost of college—from tuition to textbooks—is increasing every year, and most kids truly need help paying for higher education.
Unfortunately, you might not be in a position to lend or give them the money. In fact, you might be facing bankruptcy. If you are, you're probably wondering how this will affect college financing.
A recent Huffington Post article helps to answer this complicated question.
According to the article, "Parents are ineligible to borrow from the PLUS loan program for five years after their discharge of debts in bankruptcy." (PLUS loans are federal loans given to graduate students and parents of dependent undergraduate students by the U.S. Department of Education.)
Because bankruptcy negatively affects your credit for some time after filing, it can also be harder to get private loans.
However, there is a silver lining. Your credit likely disqualifies you from some loans, anyway, so bankruptcy has a minimal effect.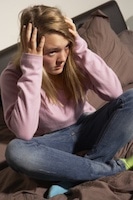 Even better, your kids could benefit from your bankruptcy. If you are denied a PLUS loan, your kids can get a boost in their Stafford loan eligibility by up to $5,000. The good news here is that the interest rates are lower for Stafford loans than PLUS loans.
Your bankruptcy will also have no effect on your kids' ability to get Pell Grants, Perkins loans, and other federal funding. Scholarships may also be available depending on your kids' grades, extracurricular activities, and more. While PLUS loans won't be an option, there are many other avenues that your family can take to fund your kids' college education.
If you are in financial trouble, bankruptcy may be the answer. An experienced Washington bankruptcy lawyer can help you decide if bankruptcy is right for you and determine how it will affect your life—from paying for college to getting loans in the future.
Contact us today to get your questions answered. One of the skilled, understanding Washington bankruptcy attorneys at the Law Offices of Jason S. Newcombe would be happy to help you.