How to Co-Parent Effectively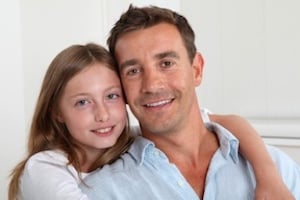 If you have children and are going through—or are considering—a divorce, you're probably worried about how you and your soon-to-be ex-spouse will handle raising your kids.
You're not alone: one of the main concerns that we see from many divorcing parents is how their children will be affected by the divorce. The good news is that kids are resilient, and, if you and your spouse co-parent effectively, the hurt caused by the divorce can be minimal.
Recently, The Huffington Post posted a helpful article on the best ways to co-parent successfully. The article gives the following tips:
Set good intentions. Just because you and your ex-spouse are divorcing does not mean that he or she must become your life-long enemy. Make sure that you and your ex-spouse commit to being the best parents you can, regardless of your marital status.
Remember your spouse's good qualities as a parent. You might not be able to stand the sight of your ex-spouse. But he or she can still be a good parent. Try to remember this as you go through the co-parenting process, and it will be easier to avoid arguments and bitterness.
Talk to your kids about your ex-spouse. It is incredibly important for kids to know that, regardless of whether or not their parents are married, they are still loved. Make sure your kids understand that, while you and your ex-spouse don't work as a couple, your ex-spouse is still a great parent.
Keep your ex-spouse involved in decision-making. As parents, it is the two of you that should have the most say in decisions regarding your kids. New spouses, grandparents, and friends may have some opinions, but remember that they are not the parents.
Try to make your ex-spouse's life easier. Kindness and understanding can make a world of difference in your relationship with your ex-spouse, which can only benefit your kids. If you both do what you can to make things easier on the other person, co-parenting as a whole becomes less stressful.
Keep to the schedules you've set, but understand that plans sometimes must be changed. Sticking to the schedules you've set up will make everything run smoother and will minimize arguments between you and your ex-spouse. But when something unexpected comes up, you and your spouse should be gracious with the other person. Sometimes, plans just have to be changed.
If you have questions about co-parenting or any other aspect of divorce, visit our blog or feel free to call the experienced Everett, WA divorce lawyers at the Law Offices of Jason S. Newcombe.