Seattle Bankruptcy Lawyers
Thinking about Bankruptcy?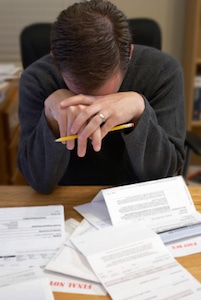 There are many reasons people need to file bankruptcy. The reason is usually not that someone is irresponsible or abusing the system. It is far more likely that someone has gotten into trouble in one of three areas: losing a job, going through a divorce or suffering a major illness. Bankruptcy in this country has been around since the US constitution was past - even before. It is a respected and traditional way for honest, unfortunate people to get a fresh start when something unexpected happens and they have no way to meet their financial obligations.
Bankruptcy takes place in the federal court system, which has a special set of courts for bankruptcy. A bankruptcy case is started by filing a petition with the bankruptcy court. As soon as this petition is filed all debt collections must stop immediately. Bankruptcy stops evictions, foreclosures, repossessions, nasty phone calls, utility cut offs, garnishments, lawsuits - any attempt to collect a debt.
You must fill out a rather large set of documents to go with your petition, detailing your property, your list of creditors, details about your income and expenses and whether you have favored any creditors recently, especially if they are "insiders." The documents you attach to your petition are intended to give the court an idea of what your financial condition has been in the past few years, what it is now and what it will be like in the foreseeable future. You don't have to make predictions about the future. You just have to disclose if you know your income is going up in the near term.
You will also have to attend a hearing called a meeting of creditors about a month after you file your case. Creditors usually do not attend this hearing. You will meet a trustee who has the power to administer your case and collect evidence to make sure you are following the laws. A bankruptcy judge makes the final decisions in the case, though most cases never get before a bankruptcy judge. The meeting of creditors is the only hearing you are likely to have to attend. You will have to provide the trustee with pay stubs, tax returns, and bank statements to help verify the documents you filed with the court.
There are two kinds of bankruptcies for most consumers. Chapter 7 is the easier and cheaper form of bankruptcy. Most Chapter 7s only last three to four months. If creditors get any money from the Chapter 7 process, it is from selling some of the debtor's property and distributing the money among them. Most people who file Chapter 7 do not lose any property because the law protects basic necessities (and then some) from creditors through legal "exemptions" in the bankruptcy laws. In Washington, a debtor can choose between state and federal exemptions, and the result is a pretty generous level of protection, allowing most debtors to get a financial fresh start while keeping all or most of their personal property.
Because Chapter 7 is fairly easy, it is reserved for lower-income people who have no ability to pay at least some percentage of their debt with their income. Bankruptcy law establishes a means test to show a debtor is not abusing the process. The means test only looks at your last six months of income. If that income was higher that the state average income for the debtor's household size, then the debtor goes through a means test. This test deducts expenses from the monthly income - some expenses are actual expenses such as mortgage payments, child care, and health insurance. Some are expenses defined by the IRS tax repayment code. If the test shows income available to pay unsecured debts - those debts not backed up by property like mortgages or car loans - then there is a presumption of abuse and a Chapter 7 could be converted to Chapter 13 or dismissed.
In a Chapter 13, the debtor proposes a plan to pay debt off for three to five years. You can pay a car loan, back taxes, and back child support and get caught up on a mortgage in this repayment plan. You can also pay unsecured debt, such as credit cards or medical debt, at a percentage you can afford. The amount you pay general unsecured debt, which is last in line to get paid in a Chapter 13 plan, depends on what the means test shows you can afford. You can argue that you have special circumstances and cannot pay the amount indicated in the means test. Sometimes, your last six months' income and expenses will be quite different from what your situation will be over the next five years.
If you are making payments on a car, house, or some other property, you can keep the property if you are able to make payments. When a creditor loans you money for an expensive item, often they will have a "lien" on this property. The lien gives them the right to take back the property in the event payment is not made. A mortgage company can foreclose or a car company can repossess the car. The general rule is that liens survive the bankruptcy even if the money debt is wiped out. There are some liens that can be removed by a bankruptcy court order, but first mortgages are not among them.
In a Chapter 7, a debtor can keep making payments on a car or a house and keep the property. In a Chapter 13, these debts consolidated with the plan. There are ways to lower the amount paid on a car or other property based on the property's value. Second mortgages can sometimes be stripped in a Chapter 13, but not a Chapter 7. The bankruptcy code does not offer a way of lowering principal balance on a first mortgage, but a Chapter 13 will stop a foreclosure and allow a debtor to get caught up on a first mortgage over five years.
If you're considering bankruptcy, the experienced Seattle, WA bankruptcy attorneys at the Law Offices of Jason S. Newcombe want to help you. Call us today to learn how bankruptcy may be able to get rid of your debt and give you peace of mind.
To learn more about bankruptcy, please visit one of the pages below: