Wage Garnishments
Bankruptcy Attorneys Fighting to Protect You and Your Family
If a debtor falls behind on any loan, a creditor can sue the debtor, receive a judgment, and start garnishing wages. In Washington, a creditor can garnish up to 25% of net wages. Of course, such a high garnishment can spell financial disaster for a family struggling with debt. Only one creditor can garnish at a time, so once a garnishment starts, it is likely a debtor will fall behind on other payments and the creditors will line up to sue and start garnishing one after another - a situation many debtors cannot recover from.
Bankruptcy stops garnishments debt dead in its tracks. It does not matter if a creditor is simply threatening garnishment, has a judgment or has actually started garnishing wages. Often garnishments that have occurred in the last 60 days must be returned to the debtor. If the bank account was frozen pending a garnishment, this money must be released to you.
If the garnishment is for a general unsecured dischargeable debt, the debt will most likely be discharged. Even if the debt cannot be discharged, such as a student loan or taxes, the bankruptcy can stop the garnishment. Domestic support obligations such as child support do not stop. If a debt cannot be discharged, the garnishment can start again once the bankruptcy is over.
A garnishment does not happen quickly. It starts with a lawsuit asking the court for a judgment. This lawsuit must be initiated by personally serving you with a summons and complaint. The summons and complaint cannot be mailed to you. You have 20 days to answer the complaint. If you do not respond, the creditor may obtain a default judgment against you. The complaint may not even be filed with the court yet. A creditor can take the complaint, file it, show a judge that you were served and get a judgment all in one day. An answer is not difficult to prepare and it is worth sending an answer to force the creditor to set a day in court for you to appear.
A creditor will usually call you and send threatening letters for months before suing you. If you know you are in danger of being garnished and you have an unbearable amount of other debt to worry about, you should start exploring a bankruptcy option well before you are garnished. A creditor can garnish 20% of your take home pay or empty a bank account. It is difficult to pay your attorney, organize your documents for bankruptcy, pay the filing fee and take the necessary pre-bankruptcy class when you are already being garnished. However, it is possible and once you face this situation, bankruptcy may be the only realistic option to stop it.
Second Mortgage and HOA Garnishments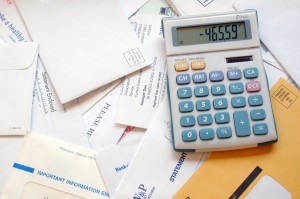 A bankruptcy will stop second mortgage and HOA garnishments, but they will still have liens on the property that will survive a bankruptcy. In a Chapter 7, these liens will have to be taken care of outside of bankruptcy. In a Chapter 13, HOA loans can be repaid over time, but it is possible to remove a second mortgage if the value of the house is less than the balance on the first mortgage.
Lately, second mortgage companies have started garnishing wages instead of foreclosing because they would receive no money in a foreclosure - the first mortgage company has to be paid first in a foreclosure. Homeowners associations would often rather garnish than foreclose as well.
Whether a creditor has a lien or the debt is dischargeable, a bankruptcy will most likely stop the garnishment while the debtor reorganizes. A Chapter 7 usually lasts only about three to four months. A Chapter 13 lasts up to five years and usually takes care of the problem, either through discharging any unpaid balance of the loan, getting caught up on the loan or removing a lien.
If you qualify, our bankruptcy lawyers can immediately stop a wage garnishment. Our attorneys will help you determine if you qualify for bankruptcy protection. Call now for help, information, and answers.