Stop Garnishments With Bankruptcy
A garnishment is a court order, or writ, that requires a third party to turn money over to a creditor for a debt owed by a debtor. The writ can order an employer to withhold 25 percent of take home pay or it can order a bank to turn the balance of a bank account over to the creditor. In general, social security checks, child support and unemployment checks can not be garnished. Bankruptcy stops the garnishment as soon as it is filed.
The creditor can not get this garnishment writ until they sue the debtor and obtain a judgment. The law suit is started by serving a summons and complaint on the debtor. The summons and complaint has to be personally delivered to the debtor. It can not be sent through the mail. After the summons and complaint is served, the debtor has twenty days to respond to the law suit. If the debtor does not respond, the creditor can get a default judgment. If you are served with a summons and complaint for a debt, you should respond even if you owe the debt.
Though the bankruptcy stops the garnishment as soon as it is filed, it is a good idea not to wait until a garnishment has been started to contact a bankruptcy attorney. Garnishments usually take a while to get started. It should not be a surprise that a garnishment is on the way. The creditor usually waits until an account is a couple months delinquent before calling. They threaten a law suit for a few months before actually filing one. They have to send the file to a law firm or prepare it in-house. Then they have to hire a process server and serve you with the complaint. If you can see that this process has started and you are in a situation where you are unlikely to get out of debt, you should contact a bankruptcy attorney. Having 25 percent of your take home pay garnished could be devastating.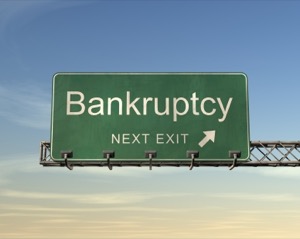 Having a bank account seized can cause serious trouble as well. A creditor can only garnish a bank account once. Sometimes they can freeze a bank account and obtain a judgment later. If you file a bankruptcy while the account is frozen but before the judgment is obtained, you can probably get the money back. Often you can get the last 60 days of wage garnishments back when you file a bankruptcy as well.
It's much better to file a bankruptcy before the garnishment starts, though. You will have legal expenses, filing fees and will need to take a pre-bankruptcy class before you file. You will have to get a lot of documents together for your attorney and meet with your attorney a couple times before filing. Bankruptcy is a much less stressful experience if you are not scrambling to stop a garnishment. However, if you find yourself being garnished, a bankruptcy will stop it immediately.