Same Sex Marriage
Protect your legal rights during a breakup with help from our Washington gay divorce attorneys.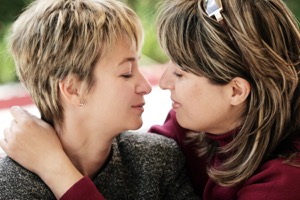 If you are seeking the dissolution of a domestic partnership with a member of the same sex, the Washington State Court will recognize your legal rights. Don't take any action before talking to a Washington same sex divorce lawyer about how the law applies to your unique situation. We have been handling same sex separations for many years, and we can help protect your legal rights and assist you in navigating this often emotional process.
Anyone who is considering a divorce worries about how their property will be divided. Some who are in same sex relationships are surprised to discover that they have similar rights to any other married couple. Our Washington gay divorce lawyers can inform you of the law, and then apply it to your situation so that you can determine your best course of action.
When the court addresses your case, they will need specific information - information that a Washington same sex divorce attorney can help you prepare. Some of that information will include details about your property, when your relationship began, whether you were registered in the state as being in a domestic partnership, and if friends referred to you as a "couple." Compiling this information is essential to presenting a case, and it will be used by the court to determine if your situation is a family court matter.
If you don't meet the standards of family law court there is no reason to despair, because you still have legal rights concerning the division of your Washington assets. After evaluating your living arrangements, our Washington gay divorce attorneys will be better equipped to give you more information.
Even if your domestic partnership was not registered our Washington gay divorce lawyers can help.
While gay couples may think there are no alternatives if they failed to register their domestic partnership, there are actually still legal options concerning their property and assets that they can fully explore. Assets that can be considered for division include personal belongings, homes, savings accounts, and retirement accounts. Indeed, if it was acquired while you were a couple then it could be subject to division.
Obviously, these are complicated issues that require assistance from qualified Washington gay divorce attorneys who understand the law. Don't make the mistake of dividing your property in an atmosphere of mistrust with your partner – get help from a Washington same sex divorce attorney who can help you make good decisions and deal with the emotional stress.
Our Washington gay divorce lawyers offer a free case evaluation to all persons in same sex relationships who are considering a separation. Before making decisions about the division of your property, get some facts from a qualified Washington same sex divorce lawyer who has dealt with these kinds of cases.
Our gay divorce and family law lawyers in Washington have decades of combined experience and are ready to help you.