Theft in Seattle
Have You Been Arrested for Theft? Our Seattle Theft Attorneys Can Defend You
Theft comes in many different varieties, and in Seattle any theft charge can have lasting repercussions that include harsh penalties and a stigma that can follow you for the rest of your life. Our Seattle theft lawyers can defend your interests against a legal system that has little compassion for persons accused of theft. The goal of our legal team in every case is to do everything legally possible to have Seattle theft charges dismissed or mitigated to some degree.
Theft includes any crime where property that a person does not own is taken either by force or by other means. This includes everything from robbery to fraud, and from shoplifting to embezzlement. In cases where a theft was committed by use of a deadly weapon, or that involve an institution of finance; the penalties can be far more severe than theft alone.
If you've been charged with a theft in Seattle, the amount stolen will indicate the penalties to which you are subject. For a theft of under $750, you face up to one year in prison and $5,000 fine. For a theft of $750 to $1,500 you could be punished with up to five years in prison and $10,000 in fines. For serious theft involving more than $1,500 you could spend up to 10 years in prison and be fined $20,000.
Fighting a theft charge is never easy, but until you talk to one of our Seattle theft attorneys there is no way we can give you any specific information about your case. However, it is important to protect your legal rights at all costs, and do everything you can to minimize the penalties you face as much as possible.
Our Team of Seattle Theft Lawyers Will Fight Your Charge and Protect Your Rights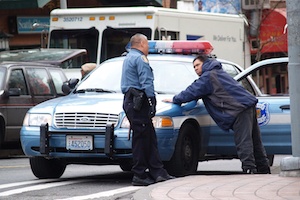 Many people who are accused of theft in Seattle are not criminals, have no criminal record, and would never commit another crime again under any circumstances. Indeed, our Seattle theft attorneys believe that everyone deserves a second chance in life, and it is under this premise that we seek to defend the character of our clients.
Jason S. Newcombe is a Seattle attorney who will defend you from theft charges with every legal tool at his disposal. In fact, our firm of Seattle theft lawyers has over 30 years of collective experience dealing with the law, courts, and prosecutors. Our primary goal in every case is to have your theft charges dismissed or reduced.
Quality Seattle legal representation is a phone call away, and it greatly improves your chances of mitigating unnecessary punishments. If someone you know has been charged with a theft crime in Seattle, contact us today so that we can offer them reliable legal counsel.