Theft in Tacoma
Our Tacoma Theft Attorneys Will Protect Your Legal Rights
Theft is a broad term that covers many different crimes, but any theft conviction will result in lasting repercussions that include court-imposed punishment, a criminal record, and the stigma of being labeled a thief. Our Tacoma theft lawyers will defend your legal rights as you face a legal system that has no compassion for people charged with theft. Our Tacoma lawyers will fight to have your theft charges dropped, and if this proves impossible we will seek to have your punishments reduced.
When a person takes property that doesn't belong to them, by force or any other means, the crime is labeled as a theft, according to Washington law. Under the theft umbrella are crimes that involve fraud, robbery, shoplifting, and embezzlement, just to name a few. If a deadly weapon was used to commit the crime, or a financial institution like a bank was targeted, a conviction will likely be devastating.
First Degree Theft is A Class C felony charged when the value of the stolen goods totaled more than $1,500. The punishments for a conviction include up to ten years in prison and $20,000 in fines.
Second Degree Theft is a Class B felony charged when the stolen property's value was between $750 and $1,500. Penalties for a conviction include up to five years in prison and $10,000 in fines.
Third Degree Theft is a gross misdemeanor and the most common and lowest form of theft. It is charged when the value of the theft is less than $750. Penalties for a conviction include up to 365 days behind bars and fines of up to $5,000. This type of charge is typically the degree charged when an individual is picked up for shoplifting. You can be charged with theft even if store security stopped you before you even left the store. If your charge stems from a shoplifting incident, it is quite common to also receive a letter of civil demand in the mail afterwards. Technically, the store can also sue you and try to recover damages from you due to your crime. Again, this can be done even if the store recovered their belongings and per statute, they can ask for more than what the items were actually worth. The letter will demand a certain amount of money to resolve the civil case. If you do not pay it, then the store could potentially sue you. It is important to note though, even if you pay the civil demand, that will not resolve the criminal case.
While the value of the items stolen is the most common method of determining what type of theft charge you will face, there are exceptions. Certain stolen items can result in more serious crimes despite their low value. Examples include stealing a car worth under $500 will still result in a felony charge. Likewise, stealing a firearm is a class B felony even if it is worth less than $750.
Developing a defense against a Tacoma theft charge is never easy. You can start getting answers to some of your most urgent questions by speaking with one of our Tacoma theft attorneys as soon as possible. We will protect your rights, investigate the facts surrounding your case, and do everything the law allows to minimize the damage a Tacoma theft conviction could cause.
Get More Detailed Information From Our Experienced Tacoma Theft Lawyers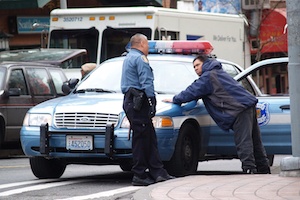 Most people accused of theft in Tacoma have never had a run-in with the law, have no criminal record, and don't consider themselves to be a criminal. Sometimes otherwise honest people make poor decisions, which is why our Tacoma theft attorneys believe that everybody deserves a second chance. We understand the high value of our client's reputation, so we act as their personal advocate with the court and prosecutor in an effort to protect their good name.
The Tacoma lawyers at the Law Office of Jason S. Newcombe will use every legal tool at their disposal to minimize the penalties of a conviction. With more than 3 decades of collective experience defending Tacoma residents from theft charges, we understand the ins and outs of these often complex cases.
Contact our Tacoma law office today and allow our Tacoma theft lawyers to aggressively pursue your interests.