Bremerton Municipal Court
Our Bremerton and Port Orchard Municipal Court Lawyers are Ready to Help You Today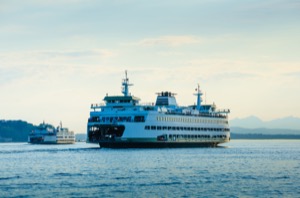 On it's website, the Bremerton Municipal Court outlines it's jurisdiction over cases involving misdemeanor crimes, traffic offenses, gross misdemeanors, non-traffic infractions, and parking infractions within Bremerton city limits. This court also handles orders of protection for victims of harassment, stalking, and domestic violence.
The Port Orchard Municipal Court web page says that it "hears misdemeanor and gross misdemeanor criminal cases including criminal traffic, criminal non-traffic, and all non-criminal traffic and non-traffic infractions, and parking tickets for violations occurring within the city limits."
The most common cases our Port Orchard and Bremerton Municipal Court lawyers handle include cases involving DUIs, traffic infractions like speeding, and protection orders. However, we can help you address any case involving the Municipal Court.
While municipal court cases may seem relatively minor, consider how a conviction could affect your life. A DUI conviction could mean losing your driving privileges and spending time in jail. A gross misdemeanor conviction could mean being haunted by the effects of obtaining a criminal record for many years to come. Even one traffic ticket could cause your insurance rates to skyrocket, and if you already have points on your driving record, you may even be at risk of far more severe penalties.
Our Kitsap County lawyers can help you with any municipal court case in Bremerton or Port Orchard. Simply contact our law office and speak to an attorney without any cost or obligation. We will answer your questions, help you understand the law, and outline the penalties you may be subject to if you're convicted. We will also outline possible avenues of defense and provide you with a realistic appraisal of your situation.
If you ultimately decide to retain one of our Bremerton Municipal Court lawyers, they will help you deal with the court and aggressively pursue justice on your behalf. You have civil rights guaranteed by the Constitution of the United States of America, and it's our job to make sure they're protected every step of the way. Don't let yourself be treated unfairly. Get help from our professional legal team and put more than 50 years of collective Bremerton and Port Orchard Municipal Court experience in your corner.
Understanding the Cases Heard in the Bremerton and Port Orchard Municipal Courts
If you've been charged with a misdemeanor, you are subject to up to 90 days in jail and $1,000 in fines. Gross misdemeanor convictions can result in up to 364 days in jail and $5,000 in fines. There are also numerous other discretionary penalties that may be imposed in these cases. For example, persons convicted of a DUI may be required to install an ignition interlock device on their car, or even agree to alcohol dependence counseling.
It doesn't matter if you're charged with drunk driving or shoplifting, because the penalties associated with any of these crimes will be swift and severe. You can lose your driver's license, spend time behind bars, or earn probation, which is something you don't want to be forced to explain to your spouse or employer.
Traffic infractions involve hefty fines, but seldom result in jail time. However, if you already have traffic tickets then the additional points on your record could lead to a driver's license suspension. Even if this is your first traffic ticket, our Bremerton Municipal Court lawyers urge you to seek out professional legal guidance, because our fees will be a lot cheaper than a massive increase in your monthly auto insurance premiums.
No matter what situation you're in, you can get answers to your most pressing questions without cost.
Our Bremerton Municipal Court Lawyers Offer a Free Consultation
Are you asking yourself any of these questions?
Can I beat a speeding ticket?
If I'm convicted of a DUI will I have to go to jail?
Will a shoplifting charge make me have a criminal record?
Can I prove my innocence after an arrest?
If so, contact our law office for a free consultation and get the information you need to decide on a course of action. With more than 50 years of collective experience, our professional attorneys know what it takes to ensure you get exceptional legal representation. We never back down, and we consider your legal rights to be our top priority. Get the help you need today by contacting our law office in Bremerton for a free case evaluation.