Kitsap County District Court
Our Trusted Attorneys Handle All Cases Heard in the Kitsap County District Court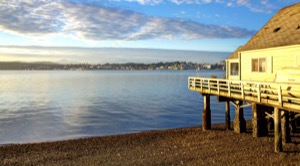 According to their website, the Kitsap County District Court "has jurisdiction over misdemeanors and gross misdemeanor crimes." This court, located in Port Orchard, also has jurisdiction over traffic offenses, small claims, orders of protection, unlawful harassment petitions, and probation services. The most common Bremerton cases heard in District Court include:
Driving under the influence
Driving with a suspended license
Assault
Theft
Misdemeanor domestic violence
Traffic offenses (speeding, running a stoplight, etc.)
While cases involving the District Court are less severe than those heard in Superior Court, you still need to treat them with the utmost urgency. Consider how a DUI conviction could cause you to spend time in jail or lose your ability to drive to work. Even a traffic ticket could cause your auto insurance rates to skyrocket. This is why it's important to discuss your options with a qualified Bremerton District Court lawyer and do everything in your power to avoid a conviction or minimize the damage.
At our law office, every attorney is well qualified to represent clients with cases involving the District Court in Port Orchard. With more than 50 years of collective experience handling every sort of criminal case, you can be confident that you're being represented by a lawyer that cares about the end result. We've seen firsthand how a misdemeanor conviction can affect a person's life, and we are ready to use our knowledge of the law to protect your Constitutional rights.
Whether you're innocent of the charges against you, or seeking to minimize the damage in whatever way possible, we will aggressively fight to protect your interests. The Port Orchard and Bremerton municipal courts handle similar cases, but the Kitsap County District Court deals with cases that fall within their jurisdiction. These are often more severe in nature and include civil cases of up to $100,000 in value.
If you're facing a criminal charge in Kitsap County, contact one of our Bremerton District Court lawyers for a free consultation and get the help you need to take the next step.
Handling any District Court Case in Washington State Requires Understanding the Law and the Charges Against You
If you're required to appear in the Kitsap County District Court, there are a few things you should do to prepare yourself:
Contact an attorney to represent your interests
Fully understand the charges against you
Inquire about the possible punishments associated with a conviction
Find out what steps you can take to minimize the damage
The court imposes time restrictions on just about every aspect of a criminal charge, and missing those dates can lead to arrest and jail time. For this reason, we urge you to treat your case with the utmost urgency. Our Bremerton District Court lawyers will help you address the charges, keep you informed of important court dates, and make sure paperwork is filed with the court clerk in a timely manner. We routinely encounter situations where a client let an important date slip by, which caused them to suffer consequences that could have been avoided entirely.
Don't let this happen to you. Contact our law office, talk to a lawyer, get the facts, and make sure you're doing everything within your power to resolve your case. Most of the clients we represent in Kitsap County District Court have never been arrested, much less spent time in jail. We don't believe one mistake should lead to a lifetime of consequences, so we aggressively pursue every legal alternative to keep you out of jail and free from acquiring a criminal record.
Our Bremerton District Court Attorneys Offer a Free Case Evaluation
Can you fight that traffic ticket? Can you avoid jail time after being arrested for a DUI? We can offer you reliable legal information to answer these questions, and it won't cost you a dime. Our free consultation offer applies to any case involving the WA State District Court, so you can get the answers you need to take the next step.
If you choose to retain one of our qualified lawyers in Bremerton or Port Orchard, they will work with you until your case is entirely resolved. Contact us today for more information and make sure your legal rights are fully protected.