Kitsap County District Court
Getting arrested and facing a criminal charge is one of the most confusing and emotionally charged experiences a person can face. In a situation like this, you need to be sure you are represented by a qualified Washington criminal law lawyer who will fight to protect your rights.
First and foremost, we understand the anxiety and stress you're feeling. We work with countless clients and most of them have never been arrested for a crime. Getting arrested is embarrassing but the worst part of the ordeal is the doubt you feel about your future security. Many crimes include jail or prison time and a conviction could mean losing your job and daily contact with the people you love.
If you or a loved one was arrested and charged with a crime, you are undoubtedly wondering what you should do next. It is imperative that you act swiftly and make sure you do everything in your power to avoid the full repercussions of a conviction.
The criminal justice system in Washington State is an uncaring machine that often processes the accused without mercy. Police and prosecutors cannot be trusted to protect your rights. If you don't protect your legal rights, who will? Protecting yourself starts by working with a lawyer who understands the stakes.
Don't let the anxiety associated with a criminal charge prevent you from taking the next logical step. Contact our law office today for a free consultation, get the facts, and find out more about how our team of Washington State criminal lawyers can help you.
The Role of the Judiciary - The Washington Court System Explained
The Judiciary is another word for the court system. It is one of 3 branches of our government. The Judiciary's role is to:
Give everyone fair access to the courts to solve legal problems fairly and efficiently.
Decide justly the guilt or innocence of anyone charged with a crime, and
Interpret the laws and protect the rights and liberties guaranteed by the Constitutions of Washington and the United States.
If you have been arrested and charged with a crime, you will have to appear before a judge in one of the three courts in Washington that adjudicates criminal cases; the Municipal court, District court, or Superior Court. Which court you are required to appear in depends upon what kind of crime the state alleges you have broken - city, state, or federal.
The word municipal is defined as "relating to a city or town or its governing body;" therefore, if you have broken a city law, you will appear in municipal court. A Municipal Court may only consider and has exclusive jurisdiction over non-criminal traffic citations, as well as misdemeanor and gross misdemeanor crimes that occur within a city's boundary. There are currently 4 municipal courts operating in Kitsap County, the Bainbridge Island Municipal Court, Bremerton Municipal Court, Poulsbo Municipal Court, and the Port Orchard Municipal Court.
The Kitsap County District Court, or "county court" as it is colloquially referred to, is located in the county seat of Port Orchard. Most cases that involve violation of state laws are tried in district courts. These are courts of limited jurisdiction that hear traffic infractions, criminal traffic citations, misdemeanors, and gross misdemeanors, as well as some civil cases and small claims suits. District courts may also hear preliminary felony trials. Each county in Washington state has at least one district court, and larger counties, like King and Snohomish, have multiple branches of the district court to serve larger populations.
A superior court is "superior" in relation to a court with limited jurisdiction (Municipal and District Courts) because it is a court of general jurisdiction. That means that a Superior Court may consider all civil and criminal matters occurring within a county's boundary. The Superior Court also has exclusive jurisdiction over civil matters in which the amount in controversy is more than $75,000, felony cases, estate and probate matters, juvenile cases, and family law cases (including divorce). Kitsap County Superior Court is located in Port Orchard and shares a building with the District Court.
As soon as you are charged with a crime, it's a good idea to contact an experienced Washington state criminal defense lawyer. This will allow your attorney to be present for questioning, understand the options that you have available to you, and in some cases reduce your bail amounts. The right defense attorney will also be able to help you negotiate favorable outcomes for your case before it reaches trial, through plea bargains or dismissal in the pretrial.
We not only provide you with a complete understanding of the legal minutiae of relevant Washington State laws but also years of hands-on experience defending cases just like yours in local Monroe courtrooms. Peace of mind is only one phone call away. Contact one of our WA State criminal law lawyers for your free initial consultation.
FAQ's Answered by Kitsap County Criminal Defense Attorneys
If you have been arrested and charged with a crime then you may be facing steep fines or jail time. You probably have a few questions, such as-
Do I need a lawyer if I'm arrested in Kitsap County?
Does it make me look guilty if I hire an attorney immediately after I've been arrested?
Will I have to appear in court?
Is It okay to talk to the police if I'm innocent?
When you've been arrested for a crime, you may wonder whether an attorney can help you. Many people accused of a crime wonder whether hiring a lawyer will be a waste of time and money. Here's the truth: Failing to hire an aggressive attorney could land you behind bars.
Your attorney can help you in a number of ways, but, mainly, we can help poke holes in the prosecutor's case, allowing you to get your charges dropped, dismissed, or, at the very least, reduced. Your criminal defense attorney will know how to pinpoint the flaws in the case against you by examining the details and the charges brought against you so we can build a defense designed to get you the best possible outcome given your situation.
Our team of Kitsap criminal defense attorneys has over 50 combined years of experience providing personalized, tailored legal strategies for every client's unique goals. Throughout the process, you will work directly with our team step-by-step, so that you understand every aspect of the criminal process. We offer a free initial consultation so that you can get to know us and ask us any questions you may have regarding your case or Washington state law.
How a Kitsap County Criminal Defense Attorney Can Help You
To give you an idea of the types of cases we handle and how we handle them, here is some information on 5 of our most common practice areas.
Assault- Did you know that Assault and Battery are separate criminal charges in Kitsap County? Washington state law doesn't define "assault" in its criminal code, so state courts rely on common law, which defines assault as intentionally inflicting, or threatening to inflict, unwanted physical harm. Battery is the bodily contact of assault. It's when an individual makes both a threat of unwanted contact and then acts upon that threat.
Domestic Violence- Family crimes are on the rise in Kitsap county. The law requires a police officer responding to a domestic violence call to make an arrest if the officer has probable cause to believe that a domestic violence offense was committed. Washington state statute defines DV as-
(1) "Domestic or family violence" includes, but is not limited to, conduct when committed by one family member against another that is classified in the jurisdiction where the conduct occurred as a domestic violence crime or a crime committed in another jurisdiction
One of the most important parts of this state statute is how Washington State defines "family members."
(2) "Family or household members" means spouses, former spouses, persons who have a child in common regardless of whether they have been married or have lived together at any time, adult persons related by blood or marriage, adult persons who are presently residing together or who have resided together in the past, persons sixteen years of age or older who are presently residing together or who have resided together in the past and who have or have had a dating relationship, persons sixteen years of age or older with whom a person sixteen years of age or older has or has had a dating relationship, and persons who have a biological or legal parent-child relationship, including stepparents and stepchildren and grandparents and grandchildren.
DV charges can impact more than just your freedom. If your reputation is on the line, you need to speak with a qualified Kitsap County criminal law lawyer right away.
DUI- Washington state law states that a person is guilty of driving while under the influence of liquor, marijuana, or any drug if the person is driving a vehicle and:
Has an alcohol concentration of 0.08 or higher, as shown by breath or blood, within two hours after driving;
Has a THC concentration of 5.00 or higher, as shown by blood;
Is under the influence of or affected by liquor, marijuana, or any drug
Washington State DUI laws are some of the most strict in the nation.If you have been charged with a DUI in Kitsap County, contact our team of criminal defense attorneys for a free initial consultation.
Physical Control Violations- strong>Even if you're not driving a vehicle, you can be charged with this crime in Washington State. Prosecutors will charge you with this crime if they believe you could turn the key and drive away from wherever you are. This means that even if you are in the back seat or passenger seat if you have access to the keys, you can be charged with this violation. Our team knows the intricacies of this law and its defenses and will fight to reduce the sentence or get the charges dropped altogether.
Theft- Theft is committed in the state of Washington when someone wrongfully takes or obtains property (or services) with the intent to deprive the rightful owner of that property (or of the value of those services).Shoplifting and petty theft tend to be prosecuted to the full extent of the law, so it's best to have someone qualified in your corner that knows the ins and outs of the system and can help guide you in the best direction for your particular case.
Statute RCW 9A.56.040 refers to theft in the second degree. Consider what the law states:
(1) Except as provided in RCW 9A.56.400, a person is guilty of theft in the second degree if he or she commits theft of:
(a) Property or services which exceed(s) seven hundred fifty dollars in value but does not exceed five thousand dollars in value, other than a firearm as defined in RCW 9.41.010 or a motor vehicle;
(b) A public record, writing, or instrument kept, filed, or deposited according to law with or in the keeping of any public office or public servant;
(c) Commercial metal property, nonferrous metal property, or private metal property, as those terms are defined in RCW 19.290.010, and the costs of the damage to the owner's property exceed seven hundred fifty dollars but does not exceed five thousand dollars in value; or
(d) An access device.
(2) Theft in the second degree is a class C felony.
This list is by no means exhaustive. If you don't see your specific charge listed above, don't hesitate to reach out to our team of Kitsap County criminal defense attorneys to go over the specifics of your charges. When you contact us, we take the time to get to know you and make sure we understand all the details of your situation.
The Natural Side of Puget Sound
On January 16th, 1857, Governor Isaac Stevens passed a bill to create a new county between King and Jefferson in Washington State. This county was originally named Slaughter, in recognition of Lt. William Alloway Slaughter, a popular military man, an acquaintance of Governor Stevens. In July of that same year, Slaughter County held its first election. One of the items on the ballot was re-naming the county. The options were "Mill", "Madison" or "Kitsap," and Kitsap won by a large measure.
Today, Kitsap County is the fourth-smallest county in Washington by land area and third-smallest by total area. It is known in the Pacific Northwest as the natural side of Puget Sound. Home to approximately a quarter of a million residents, Kitsap County encompasses the cities of Bremerton, Poulsbo, Bainbridge Island, and Port Orchard. With over 250 miles of accessible shoreline along the Kitsap Peninsula, Kitsap County is a popular destination for outdoors people and wildlife fanatics.
In the North Kitsap city of Hansville is the Point No Point Lighthouse. In operation since 1879, this lighthouse is the oldest working lighthouse in Puget Sound. For day-trippers, there is a beachfront park, and if you're looking for overnight accommodations, there are two vacation rental houses that offer visitors a prolonged experience.
Another popular Kitsap activity is the Silverdale Whaling Daysfestival. Every summer since its inception in 1974, the "Old Town" section of Silverdale plays host to a parade, street fair, rides, food, and live entertainment.
If you've spent a little too much time in the beer garden during one of the many festivals in Kitsap County, you may need an experienced criminal defense attorney. Contact our firm for a free case evaluation so that we can help you get back to enjoying all that Kitsap has to offer.
Do You Need a Kitsap County Criminal Defense Attorney?
In a perfect world, the court system in Kitsap county would never wrongfully convict anyone. Unfortunately, the justice system isn't always perfect and wrongful convictions happen every day. Even if you are guilty of the crime that you have been charged with, it doesn't mean you don't have the right to a fair trial. As a matter of fact, in situations like these, your defense is even more critical. Understanding your rights can be the difference between years in prison or simply paying a fine. It's your WA State criminal lawyer's job to ensure you are treated fairly by the courts.
In addition to fines and possible jail or prison time, you may face the lasting criticism and judgment of your friends, family, peers, and colleagues. You may have difficulty obtaining employment, or finding a place to live. Because of this, few people accused of criminal offenses want to go to court without an experienced attorney on their side. Call our Kitsap County criminal defense attorneys today to start your free consultation. We will aggressively fight to protect your freedom and your future.
Our Trusted Attorneys Handle All Cases Heard in the Kitsap County District Court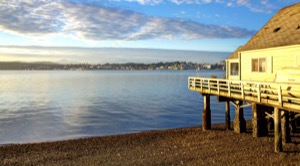 According to their website, the Kitsap County District Court "has jurisdiction over misdemeanors and gross misdemeanor crimes." This court, located in Port Orchard, also has jurisdiction over traffic offenses, small claims, orders of protection, unlawful harassment petitions, and probation services. The most common Bremerton cases heard in District Court include:
Driving under the influence
Driving with a suspended license
Assault
Theft
Misdemeanor domestic violence
Traffic offenses (speeding, running a stoplight, etc.)
While cases involving the District Court are less severe than those heard in Superior Court, you still need to treat them with the utmost urgency. Consider how a DUI conviction could cause you to spend time in jail or lose your ability to drive to work. Even a traffic ticket could cause your auto insurance rates to skyrocket. This is why it's important to discuss your options with a qualified Bremerton District Court lawyer and do everything in your power to avoid a conviction or minimize the damage.
At our law office, every attorney is well qualified to represent clients with cases involving the District Court in Port Orchard. With more than 50 years of collective experience handling every sort of criminal case, you can be confident that you're being represented by a lawyer that cares about the end result. We've seen firsthand how a misdemeanor conviction can affect a person's life, and we are ready to use our knowledge of the law to protect your Constitutional rights.
Whether you're innocent of the charges against you, or seeking to minimize the damage in whatever way possible, we will aggressively fight to protect your interests. The Port Orchard and Bremerton municipal courts handle similar cases, but the Kitsap County District Court deals with cases that fall within their jurisdiction. These are often more severe in nature and include civil cases of up to $100,000 in value.
If you're facing a criminal charge in Kitsap County, contact one of our Bremerton District Court lawyers for a free consultation and get the help you need to take the next step.
Handling any District Court Case in Washington State Requires Understanding the Law and the Charges Against You
If you're required to appear in the Kitsap County District Court, there are a few things you should do to prepare yourself:
Contact an attorney to represent your interests
Fully understand the charges against you
Inquire about the possible punishments associated with a conviction
Find out what steps you can take to minimize the damage
The court imposes time restrictions on just about every aspect of a criminal charge, and missing those dates can lead to arrest and jail time. For this reason, we urge you to treat your case with the utmost urgency. Our Bremerton District Court lawyers will help you address the charges, keep you informed of important court dates, and make sure paperwork is filed with the court clerk in a timely manner. We routinely encounter situations where a client let an important date slip by, which caused them to suffer consequences that could have been avoided entirely.
Don't let this happen to you. Contact our law office, talk to a lawyer, get the facts, and make sure you're doing everything within your power to resolve your case. Most of the clients we represent in Kitsap County District Court have never been arrested, much less spent time in jail. We don't believe one mistake should lead to a lifetime of consequences, so we aggressively pursue every legal alternative to keep you out of jail and free from acquiring a criminal record.
Our Bremerton District Court Attorneys Offer a Free Case Evaluation
Can you fight that traffic ticket? Can you avoid jail time after being arrested for a DUI? We can offer you reliable legal information to answer these questions, and it won't cost you a dime. Our free consultation offer applies to any case involving the WA State District Court, so you can get the answers you need to take the next step.
If you choose to retain one of our qualified lawyers in Bremerton or Port Orchard, they will work with you until your case is entirely resolved. Contact us today for more information and make sure your legal rights are fully protected.